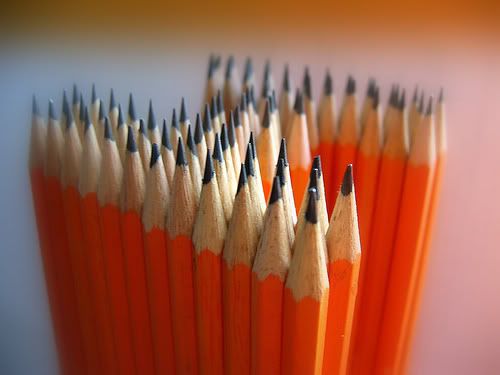 from photobucket
My beloved volunteered to purchase Cade's school supplies, this year. I have always enjoyed school-supply shopping but--despite marked progress--have not yet risen to the level of my beloved's extreme frugality and wisdom; thus, I agreed: he could be the school-supply shopper, this year.
I gave him the list. "How's it going with the school supplies?" I asked, on several occasions.
"Just fine," he would answer, or, "I'm getting there." Finally, on Saturday, he said: "I'm all done except for tissues and hand sanitizer, and I don't plan on buying those, really."
A warning bell should've gone off, in my head. But noooo. I just bought tissues and hand sanitizer from the Dollar General.
Last night, around 8 pm, I sat down to pull together Cade's school supplies. There was no binder. There were no folders. "How can there be no binder or folders?" I asked my beloved.
"Not on the list," he said.
"What about sanitizing wipes?" I asked.
"I told you I didn't buy those," he said.
"No, you didn't! You told me you didn't buy tissues or hand sanitizer!"
"Look," he said. "No one is going to die if you don't send sanitizing wipes. That's the only thing on the list you don't have."
"No, it isn't!" I said. "What about gallon-sized Ziplocs?"
"There are some of those in the pantry," he said.
"Two open boxes!"
And it went on and on. When it was all said and done, I packed, for Cade, an old binder; no folders; no sanitizing wipes; an open 18-ct. box of gallon-sized Ziplocs (with 13, consolidated Ziplocs inside); a box of used, colored pencils; and 6/24 sharpened pencils. Because I broke all 3 of our tiny, hand sharpeners and developed a blister on the palm of my right hand in the process of sharpening those 6...after yelling at Cade (who was struggling to sharpen, himself) that I would "do it myself" and sending him to bed, in tears.
My beloved--angry with me over my abysmal, ungrateful attitude--took the girls upstairs, and I crawled into bed with Cade and smoothed things over. Then I proceeded to pack his lunch, which included our last two, crumbly pieces of bread and a water bottle full of Crystal Light Tangerine Sunrise Strawberry.
How did back-to-school end up catching me unprepared?
I got up with Cade, this morning: made sure he ate cereal, wore unembarrassing socks, brushed his teeth. We set off for school in the pouring rain. I warned him about all the things wrong with his supplies and promised to buy him folders, sanitizing wipes, an electric pencil sharpener.
I asked him if I could pray for him while I drove. He closed his eyes and bowed his head. I prayed all I could think of to pray, ending with a plea that he stay out of trouble.
After the "amen," he looked up at me with a little sideways grin.
"What is it?" I asked.
"Mom," he said, "Don't you think it's a little ironic that you're praying about my behavior? I mean, when you were in middle school, you stabbed someone with a pencil!"
And yes, I did that. I can still see the pencil lead just under the tan skin of that boy's chest. Another time, I threw a heavy, hand can opener across the room and cracked my brother upside the back. I'd like to pretend I've left these behaviors behind me, but I've smashed a Holly Hobbie Collectors Edition Plate against the hearth in this very house.
I don't mean to scare anyone. I mean, I'm nice enough most of the time. But I'm not always the best example, and the boys enjoy calling me out on it. Sometimes, Jim will ask: "What if all your church friends knew how you really are?"
So here's my unapologetic response: now they all know.
I am capable of terribleness.
Praise the Lord: I have One!!!!!
P.S. I forgot to take a back-to-school picture of Cade, this morning. If I can remember to grab my camera Thursday morning, though, I don't think he'll be much changed, by then.