Two years ago, I went home to Tennessee--as I always do--over the holidays. My dad's friend T.L. stopped by my parents' house to see me. He had moved, and--because I didn't have his new address--I hadn't sent him a Christmas card, so I apologized. He looked at me and said in his frank, sincere T.L. way: "It's alright, Brandee. I know you love me, " after which I burst into tears. At the time, I had no idea why his words affected me like that, and I'm pretty sure everyone else in the room was equally confused. But I think I've figured it out, and I think I can explain it like this:
After Grandma Shafer's death in 1992, the family gathered in Greencastle, Pennsylvania to clear out her house and prepare for an auction. Grandma had been the heart of our family and her house a warm, gathering place, so the air on this day was thick with grief. Everyone worked cooperatively, efficiently, quietly. There was a general understanding that each of us could reclaim gifts (s)he had given to Grandma, and--even as boxes were filled--small piles of these items were built throughout the house. I wandered from room to room, looking especially hard in the hutch, and found nothing I had given to Grandma. Nothing! I had loved her for eighteen years, and it was as though I had never given her a thing. My heart felt like a broken, concrete block in my chest.
Then I heard my name called from a back bedroom. There, in a cedar chest, someone had found a stack of letters I had written to Grandma. It was a thick stack tied together with satin ribbon: tens of letters written over the seven years since my parents had relocated our family to Tennessee. The rush of relief I experienced in that moment nearly drove me to my knees. Here was proof:
Grandma knew that I loved her.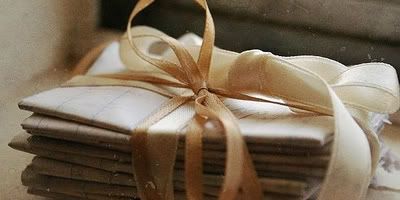 When there is no more opportunity for words, the question that will drive you crazy is less likely to be: Did (s)he love me?, than: Did (s)he know that I loved him or her? So it was a precious gift when T.L.--in his calm wisdom--acknowledged my love for him.
I encourage you, as you move through life, to say not only the deeply precious words: "I love you," but also: "I know you love me." On this earth, we must each be separated from the other, and--when those days come--what comfort it is to know that love was more than felt...that it was both expressed and realized!