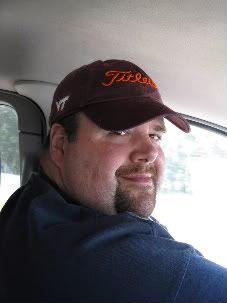 While we were in East Tennessee for spring break, Jim stopped at a Little Caesars to pick up some pizza. When he walked back to the minivan, he had a man with him, and--although I'd never met the man before, based upon the look on Jim's face--I had a pretty good idea who he was.
As it turns out, I was right; the man was Jim's beloved Coach V. from high school. Having heard Jim talk about Coach V. so many times and with such great affection, I hugged him right away, and hard. He got to meet the children; it was a nice, little moment. Three minutes of a moment (quick), but, you know, beautiful.
I've thought about it so many times since and have known from the get-go: it was a God thing. I mean, consider with me: we were out of town...out of state! We almost
never
buy pizza, anymore; Jim hasn't eaten it since his gastric bypass and didn't eat it that day. And I'm telling you: Jim isn't like me. He isn't a person of and for many people. In fact, I'd never seen him shine out with love like that for anyone else but me. What were the chances that he would randomly run into Coach V. at a pizza place in Knoxville? C'mon. Total God thing.
Today, I was washing dishes and thinking about it, again: how I felt a prick of jealousy, that day, at the look of sheer love on Jim's face. He used to look at me like that, and I mean all the time. I haven't seen that look for awhile. I don't even think I knew how much I've missed it until we ran into Coach V.
Then it hit me like a ton of bricks: I mean, the Lord just spoke into my heart plainly as ever He has:
That moment wasn't for Jim, Brandee. It was for you.
And
then
it was like fifteen light bulbs went off in my head all at once, and for the first time I really
heard
a question that Jim has asked me over and over again: "Why are you nicer to
everyone
else than you are to me?"
We've gone around and around about it. I've told him: no one else gets on my nerves like he does (true). I've told him: no one else has hurt me like he has (true). I've told him: I'm not raising little children with anyone else (true). I've told him: I need more help (true). I've told him: I need a break (true). I've told him: I'm tired and overwhelmed and frustrated and struggling (true, true, true, true). I've told him: he doesn't always speak kindly to me, either (true). I've told him: he doesn't understand my world (true) and therefore can't fully appreciate what I do (true).
But what I
haven't
told him (at least in that sincere, bent-toward-improvement way) is: I'm sorry.* Because I wasn't. In my mind, my behavior was justified based upon the stress, ills, or pain of the day. I'd convinced myself that if circumstances were different, I would be happier and kinder to Jim: the person I'd tried to make responsible for changing my circumstances or relieving my burden.
I think it's so hard to accept one's onus in a situation. It hurts, and beyond that, I think it's human nature to avoid or overlook one's onus completely: to not see it even when it's in black and white, to not hear it even when it's spelled out. It took our encountering the one person in the world who could "light Jim up"--and then a month or so to think about that encounter--in order for me to understand how Jim must feel over and over...every time he hears me speak to someone (anyone) more kindly than I do to him.
*
I blogged to the point of the asterisk before calling Jim at work and bawling through a since

re apology. I'm publishing, anyway, because

I'm hopeful that--in being wide-open, as always, in my struggles and weaknesses--I can help someone else. If you've been helped, please share this post

with others.