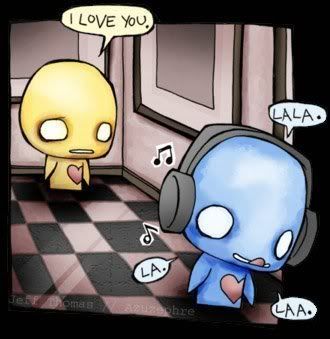 Pastor David preached, this morning, about forgiveness. He spoke of Christ's incredible example of forgiveness (Luke 23:24), and he shared the story of the servant forgiven of his debt by the king, only to assault a fellowservant and demand repayment of a smaller debt (Matthew 18: 23-35). Pastor David talked about the impact of
unforgiveness
(specifically the damage it can do inside the church and to a Christian's testimony/witness) as well as the impact of
forgiveness
.
Forgiveness has never been particularly easy for me, and, really, I've suffered small offenses compared to so many others. I've struggled with friends' rejection moreso than anything else, I guess, and I thought I'd take the opportunity to share some things I've learned on the subject.
I've always hated the

philosophy

behind: "Friends come into your life for a reason, a season, or a lifetime," but it's true. I would prefer that all my friends be lifetime friends, but, unfortunately, it just doesn't work that way. Knowing as much makes it easier to let go; to feel thankful for another's presence for a particular reason or during a particular season; and to focus on my lifetime friends instead of someone who has taken leave (and my ensuing sense of rejection).

Sometimes it's not about me. Friendship takes work, and sometimes the other person doesn't have the time or energy to pour into the relationship. I think it's worth asking the question and believing the answer. Recently, I went to a long-time friend whom I was missing, and she explained: her child drains her of energy to the point that--at the end of the day--she wants alone time. She assured me that--if I ever reach out and express that I need her--she will make herself available, but wanting her probably isn't enough, right now. I believe her and have made peace with missing her. I wasn't always in that place. I remember a friend with a sick child confessing, once, that she had no time left for our friendship, and, somehow (in my immaturity), I couldn't accept her answer. I loved her and wanted so desperately to spend time with her, and I remember crying into the phone: "But I could go with you to the grocery store!" After the friendship failed, I carried a grudge for years. Her pleasantries--when she saw me out and about--ran all over me until, finally, I e-mailed her and learned:

Sometimes the other person has no idea I'm hurting. If I can find a way to talk about my pain, the other person may express regret, sorrow, or a desire for forgiveness...or at least a desire for me to feel better about things. I don't know about you, but I find it hardest to forgive someone who hasn't asked for my forgiveness. The person I reference above hadn't hurt me on purpose, and the problem was mine, not hers. But--when she learned of my pain--she was willing and able to help me move past it.

The person who appears to hurt me isn't really who's hurting me. Sometimes, there's another person pulling the strings. (I think of a former boss who wronged me, once, in an effort to smooth things over with his boss.) Regardless, Satan is always involved. I don't imply that the one who hurts me is being controlled by Satan but know that Satan delights in my pain (even that which is self-inflicted and misguided): "For we wrestle not against flesh and blood, but against principalities, against powers, against the rulers of the darkness of this world, against spiritual wickedness in high places" (Ephesians 6:12).

According to the Bible, if I as a Christian have been offended by another believer, it's my responsibility to initiate a conversation. "Moreover if thy brother shall trespass against thee, go and tell him his fault between thee and him alone: if he shall hear thee, thou hast gained thy brother" (Matthew 18:15).

Finally, I am nowhere near the point of offering someone my shirt after (s)he steals my coat (let alone my other cheek when (s)he strikes me in the face), but Jesus makes the point that it's easy to be nice to nice people. Christians set themselves apart when they are nice to mean people (Luke 6). Again, I'll admit: I don't know that I'm anywhere near a Jesus place on this point. I'm not into fighting but tend, absolutely, to avoid the meanies. (And very often the annoying, as well!) I trust that God will continue to grow me in this respect.

What about you?
Do you have any words of wisdom to share on the subject of forgiveness?