I made a Smooth Stones button!
I think it works, but I'm going to paste it below and test it.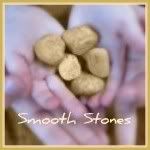 If you're a button grabber, feel free to grab mine.
The code is in the sidebar.
If you already have a button or know how to make one, the rest of what I'm about to write won't interest you. If you don't have a button and would like to make one, I want to preface the rest by saying: I am technologically challenged, and if I can make a button, so can you!
I started by taking a photograph of Cade's and Clementine's hands, this evening, and editing it at picnik.com. The key was to crop my photo into a perfect square. After I was completely done editing it to my liking, I resized it to 150x150 before saving it to my computer. I got this far mostly by following Step 1 of the directions
here
.
At this point, I switched tutorials and started following the directions
here
, starting with Step 2, and I had no trouble, whatsoever.
Yay!