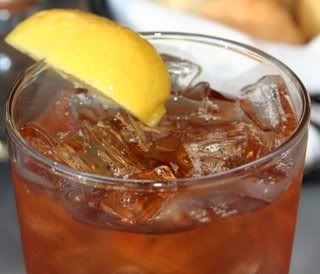 photobucket photo
I have a friend named Becky who just moved here from Minnesota. Like, JUST. So I find it a little ironic that
she
invited
me
to a social in Richmond. Also that I was one of
three
people in attendance whom she'd invited. That girl. She cracks me up.
One might say she's a social force. A Sweet Tea Social force.
I haven't much to blog that hasn't been blogged, already, about the Sweet Tea Social. What I can tell you is that I cheated, a little, in attending because I'm not a DIY or crafting blogger.
I didn't care. I really needed a break from my kids, and this was the perfect excuse to wear a dress without someone's smearing food on me; to conversate with other adults, interruption-free; and to eat my very
own
piece of cheesecake.
After lunch, half the group proceeded to Hobby Lobby. I wasn't among those five bloggers; I don't know what I might've purchased, at Hobby Lobby. Besides, I was on a quest for cheap, silver tennis shoes. (I found them.)
But I loved lunch, and I loved seeing/meeting each blogger in attendance.
So allow me to introduce you to my bloggy buddies and direct you to their virtual spaces (ideally, to their Sweet Tea Social posts):
Michelle
of the Bell-sounding Laugh, our co-host
Allison
the Mover and Shaker, our co-host
Becky
, the Sweet Tea Social Force
Traffic Jam
Linda
, who Blogged a Decent Picture of Me
(Thank you, Linda!)
Anjie
, a Real-life Powhatan Pal Before She Became My Bloggy Buddy
Kristol
the Accessorizer-Photographer
and Cheryl and Patty
Now. Here's my favorite part of my Sweet Tea Social story. My heart has quite attached itself to
Anita
: someone on the attendee list who couldn't--in the end--attend. I'd connected with her prior to the event because...get this: she has my last name, only spelled differently. We look enough alike that we could be related, and I can't quite explain it, but, already, I claim her as family.
I opened the mailbox, tonight, and found a letter from Anita inside: handwritten, exquisite, heartfelt. I needed that letter. More than I can say, I needed it, and I thank Michelle and Allison and Becky! for the part they played in its finding its way, here.