I have a bunch of jumbled mess in my head, again, and I don't know if I can spill it out, in words, in a way that makes sense to
me
, let alone to anyone else.
But of course I'm going to try.
Blogging. I started exactly five months ago. I still don't half know what I'm doing. The gadgets in and of themselves confuse and overwhelm me. Also, as far as I can tell, people connect in the blogging world either because they know one another in real life or because they find one another by happy accident?
Through serendipity, or whatever, or
Whomever
, I stumbled upon a blog community spiraling from the heart of creative force Emily in Canada. On Thursdays, she encourages the linking up of
"imperfect prose,"
and I have come to really love writing for an audience of like-minded friends, also reading their work. To be honest, I feel like something has been awakened in my mom brain because of it.
The other day, while driving down the road, I thought of Emily's blog community and how my words find a imperfect-prose home, there, and I started turning the word imperfect over in my mind. I considered how often I experience sorrow over my imperfection, and I refer less to my sin than to my haphazard appearance, also to my chronically disorganized car and house.
It's not that I don't
want
to appear put together. It's not that I don't
want
a clean and orderly house. But I want those things if someone will, kindly, wave a magic wand over: not so much if I have to fight for them.
If perfection is not my goal, I should make peace with my imperfection.
And perfection, or even the appearance of it, is
not
my goal. My mother gave me my goal (among a million other things), and I'm just starting to realize. She gave me my goal everytime my brother and I fought, when she made us hold hands and recite Ephesians 4:32 (KJV): "And be ye kind one to another, tenderhearted, forgiving one another, even as God for Christ's sake hath forgiven you."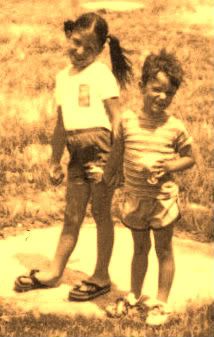 Let me tell you something: my brother and I recited Ephesians 4:32 so many times that, to this day, we both know it. When I say we know it, I mean we know it
cold
. And yet.
I have such a long way to go in living out Ephesians 4:32 that this goal requires every bit of emotional, mental, spiritual, and even physical energy I have.
(Stay with me through a rough transition.)
I made my first-ever homemade pie crust tonight. I used the recipe's ingredients but didn't follow its instructions. I didn't chill my individual ingredients. Or my dough. I didn't chop up my butter; I melted my butter in the microwave. I didn't use a food processor or kitchen scissors. I didn't pinch, flute, or fork-press my top and bottom crusts; I just kind of folded the bottom crust over the top crust. And I didn't bother to baste anything.
My first-ever pie appears less than perfect:
Princess Clementine didn't care a bit.
Know why?
Because my mom was right,
too, about this:
it's what's on the inside that counts.
I'll never forget: my friend Jeremy Robinson said to me, once, many years ago: "I love you because of your imperfection, not in spite of it."
And Leonard Cohen sings: "Ring the bells that still can ring/ Forget your perfect offering/ There is a crack in everything/ That's how the light gets in."
And Apostle Paul wrote: "And he [the Lord] said unto me, 'My grace is sufficient for thee: for my strength is made perfect in weakness.' Most gladly therefore will I rather glory in my infirmities, that the power of Christ may rest upon me" (II Corinthians 12:9).
And all of God's people said: "Amen."